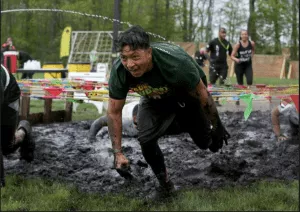 Are you looking to run against your friends and family or even complete strangers all the while getting dirty? Well our mud runs in North Carolina could be just your ticket. We hold many mud run and obstacle events for kids and adults in North Carolina. This year our North Carolina Kids mud run will be held in Raleigh, NC. The course varies in length but you are guaranteed to have a blast and make many memories. We have over 15 military style obstacles to complete as well as various mud obstacles. Many people have compared our mud runs and obstacle races to the Spartan races or even American Ninja Warrior, but for families.
Why Run In Our NC Mud Runs?
There are many perks when you sign up for a mud run or obstacle race with us. Some of these are a FREE official race t-shirt, a medal and many more race perks! You can sign up as an individual or even form a mud run team with a creative name to boot. We welcome all levels of competitors to our mud runs.
Find A Mud Run in North Carolina Today!
We are constantly adding new mud runs and obstacle races in North Carolina. So be sure to check out our mud run events page often. If you would like to host your own mud run or community obstacle event, contact us today!